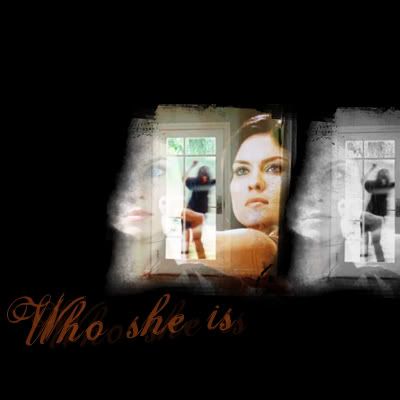 *facepalms*
Yes, yet another fanmix. Sue me LMAO.
Because I adore that bitch.
14 songs, divided in 4 categories. Each category showing diffrent side of Gretchen. Which one is real? Which one is true? You decide.
This fanmix is dedicated to
gemasarah
. Because one of her personalities is now on the dark side *winks*. And I am proud of it *iz proud*. And she needs new music. And damn, she'll probably kill me for that mix, but what the hell - you only live once :). Hun, I hope you'll like this one *winks*.
PART ONE: THE KILLER
1. Sophie Solomon – Holy devil
[instrumental]
2. Disturbed – Indestructible
Indestructible
Determination that is incorruptible
From the other side
A terror to behold
Annihilation will be unavoidable
Every broken enemy will know
That their opponent had to be invincible
Take a last look around while you're alive
I'm an indestructible master of war
3. Trapt – Headstrong
Back off I'll take you on
Headstrong to take on anyone
4. The Hoosiers – Killer
Blood red lips, they shake like leaves
You're flesh and blood, but what's underneath?

Don't turn out the lights
Kiss yourself goodnight cause there's a killer

PART TWO: THE SEDUCTRESS


5. Karen Kamon – Manhunt
Pruny lips in the mirror, lucky heels on the floor
The future's drawing nearer, I just can't ignore
I know he'll be at the party tonight, he'll be lookin' so fine
He'll be surprised when I walk up to say
Man, I wanna make you glad you're alive
6. Esthero – If tha mood
And she won't fuck you like I do and you know that it's true cause
I have what she hasn't got and I remember all your spots so

If tha mood should hit ya and ya wanna, baby I don't mind
A little taste may relieve the tension I feel inside
7. Bittersweet – Dirty laundry
What's the fun in playing it safe?
I think I'd rather misbehave
Your way

I'm just a bad girl, that's why we get along
Won't make excuses for anything I'm doing wrong
I'll pull the trigger in a flash
Watch out honey, step back
8. Pussycat Dolls – Don't cha
Don't cha wish your girlfriend was hot like me?
Don't cha wish your girlfriend was a freak like me?
Don't cha?
Don't cha?


PART THREE: A RIOT


9. Britney Spears – Circus
Well baby, I'm a put-on-a-show kind of girl
Don't like the backseat
Gotta be first

I'm a like the ringleader, I call the shots (Call the shots)
I'm like a firecracker, I make it hot
When I put on a show...

10. Ana Johnson – Cuz I can
I'll be the itch on your back, on a spot that you can't reach
I'm the reason you crack, yeah I'm like a bad disease
Just because I can - just because I can
11. Joan Jett – Bad reputation
A girl can do what she
wants to do and that's
What I'm gonna do
An' I don't give a damn
' bout my bad
reputation

PART FOUR: BROKEN WOMAN


12. Mono – Slimcea girl
She remembers the day
When things were going her way
Only memories remain
Of the way she used to be
The way she used to be
13. Persephone – Reflection
Always pretending to be strong.
Hiding my grief deep inside.
Please, don't come near
And don't look at me.
'Cause no-one should see
The secrets I bear.
14. Eric Satie – Gnossienne no3
[instrumental]
Current Mood:
productive
now playing: Britney Spears - Circus